Operational Experience
Our real-world approach to manufacturing problems will transform your business dramatically. We roll up our sleeves and blend our first-hand manufacturing experience with proven principles of TOC and Lean Manufacturing that align your processes with your people.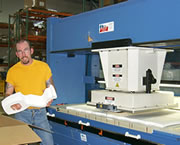 We incorporate a wide range of proven techniques and products to help perfectly align your people and process, drive radical performance improvements and increase productivity and profits. It is our commitment to keep your knowledge and performance constantly moving forward.
Our production and process manufacturing techniques resolve issues and achieve goals to meet and exceed our clients expectations including define cost, output quality and customer satisfaction.
Results that work include:
Labor, material, inventory, and overhead standards
Waste and theft controls
Performance based compensation and incentive programs
Practical and achievable production and sales planning and processes
Effective and responsive management reporting processes